Environmental Management
Operational Status of ISO 14001
Taisho Pharmaceutical integrated the environmental management systems certified for each factory into the Production Headquarters and has been operating an integrated system since fiscal 2010. In the periodic audit performed in fiscal 2019, no item for observation was found.
In addition, in the internal environmental audit, rather than a simple system audit we conduct a performance audit, in which we audit system performance, as well as an environmental risk audit. We regularly provide opportunities for internal auditors to improve their skills.
Implementation Status of ISO 14001 Audit
Office
Certification integration date
Audit date
Findings
Minor nonconformance
Item for observation
Production Headquarters
January 2011
November 2019
0
0
Environmental Risk Management
Since fiscal 2008, we have prepared an appropriate framework and procedures for a critical event related to the environment and have established the following guidelines to build a Groupwide crisis management framework.
Guidelines for Environmental Pollution Special Crisis Response
Chronological Action Plan for Environmental Pollution Special Crisis
The Production Headquarters uses the ISO 14001 system to establish a framework against environmental risks.
Emergency Event Response Training
We provided emergency event response training, which assumes an explosion or fire caused by a chemical leakage or ignition, to teach response methods, identify problems and improve countermeasures. The Production Headquarters also provides training every year that assumes an emergency in a dark place where fewer workers are present, such as at nighttime and on days off.
Compliance with Environmental Laws and Regulations
The Taisho Pharmaceutical Group is working to comply with environmental laws, ordinances and regulations based on an environmental management system. In fiscal 2019, there were no violations of environmental laws, ordinances or regulations, as well as no administrative sanctions, lawsuits or fines.
Environmental Training and Awareness
Group Training
The Production Headquarters provides environmental training to all workers at each factory according to the ISO 14001 system.
Because economic activities are increasing, climate change due to greenhouse gases and waste issues are often reported in the media. Considering the situation, in the back-office departments, we explain global environmental issues, the effective use of energy, the risk related to the disposal of promotional merchandise and compliance with the Waste Management and Public Cleansing Act to raise employees' awareness of compliance.
We have also been continuously providing environmental training at Head Office and branch offices. During fiscal 2019, we offered training on the environment for employees at the Nakanihon and Kansai Branches. This fiscal year, the training sessions were titled "Efforts to reduce energy usage" and "Mitigation of global warming. " For employees involved in waste management, we provided training on producer responsibility titled "Deterrent to prevent waste scandals." We will continue providing training on the environment going forward while striving to raise employee awareness of the environment and legal compliance.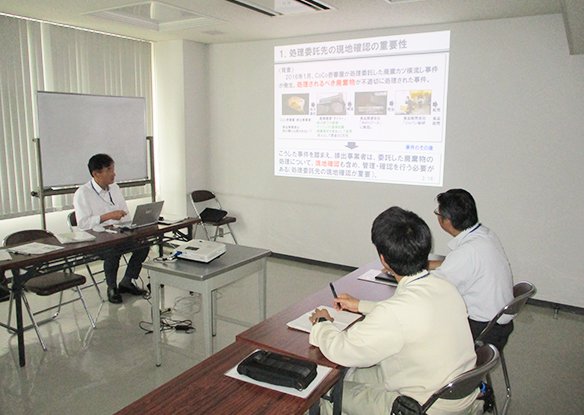 Environment Month
In the Environment Month in fiscal 2019, we held an environmental quiz about symbols of environmentally friendly products and services for employees to feel closer to environmental initiatives.
The Production Headquarters, where many employees commute by car, set a "No Private Car Week" and encouraged commuting by trains, other public transportation or bicycles, thereby reducing CO2 emissions.
Environment Month Initiatives Conducted in Fiscal 2019
Environmental quiz
Week of car-free commuting
Lights-Down Campaign (on the day of the summer solstice and on Cool Earth Day)
Green Purchasing
Internet Purchasing System
In fiscal 2005, we introduced an Internet purchasing system for consumables. The purchase catalog gives priority to environmentally friendly products to help promote green purchasing.
Green Purchasing of Automobiles
Taisho Pharmaceutical and Taisho Toyama Pharmaceutical Co., Ltd. use 589 cars for their business activities (as of March 31, 2020). All cars used for business activities achieved a reduction of 75% or more in exhaust gas compared with the 2005 certification standard.
Since fiscal 2013, we have altered our main 1,500 cc car to a 1,200 cc version with lower displacement to improve fuel consumption. We strive to reduce the environmental load by, for example, promoting eco-driving through in-house education.
Percentage of Green Purchasing of Corporate Cars (As of March 31, 2020)
Number of cars
Percentage
Total number of cars
589
Exhaust gas certification standard in 2005
589
100%
Reduced by 75% (New ☆☆☆☆) Hybrid
3
Reduced by 75% (New ☆☆☆☆)
586
Reduced by 50% (New ☆☆☆)
0
Others
0
0%