Sustainability Policy
Basic Approach
The Taisho Pharmaceutical Group is strengthening ESG initiatives centered on the Declaration of Corporate Conduct based on our management philosophy. The Declaration comprises 10 principles to ensure adherence to laws, ordinances, regulations, social standards and business practices and so that we remain disciplined in our efforts to maintain a highly ethical approach. The principles outline our commitment to engage in good communication with stakeholders such as consumers, customers, business partners, employees, shareholders, investors and local communities and to voluntarily and actively undertake environmental initiatives.
The Declaration is consistent with the concepts underpinning ESG and the Sustainable Development Goals (SDGs), and we believe that it is essential for the Group to promote activities based on these concepts in order to achieve sustainable growth.
In promoting these activities, we will make efforts to disclose the initiatives we implement so that they can be accurately evaluated by stakeholders. We take such evaluations seriously and factor the feedback into our business activities that enable us to continue to improve them and contribute to society while enhancing our corporate value.
ESG Initiatives
The Taisho Pharmaceutical Group recognizes the implementation of sustainability-related activities as a key management challenge. ESG factors are a critical component of a company's evaluation, and as such, we are making efforts in each of the environment-, social- and governance-related areas. In promoting these activities, we first identify and examine issues and formulate policy, led by a dedicated officer assigned to the Corporate Planning Division. On top of this, pertinent divisions collaborate in each of the three areas, and implement concrete initiatives aimed at resolving the issues. Important matters are reported to and deliberated by the Board of Directors.
SDGs Initiatives
The Sustainable Development Goals (SDGs) are 17 goals comprising 169 targets to be achieved by 2030 that were adopted by the 2015 UN Summit and seek resolution to problems confronting the world, such as poverty, the environment and social justice.
Our management philosophy as a pharmaceutical company is to "contribute to society by creating and offering superior pharmaceuticals and health-related products as well as healthcare-related information and services in socially responsible ways that enrich people's lives by improving health and beauty." In particular, Goals 3 (Good health and well-being), 8 (Decent work and economic growth), 9 (Industry, innovation and infrastructure) and 12 (Responsible consumption and production) of the SDGs are closely related to our corporate philosophy. In addition, our activities are linked to many of the goals of the SDGs, and by continuing to promote these activities, we can fulfill the responsibilities expected of us by all of our different stakeholders and contribute to the achievement of the SDGs.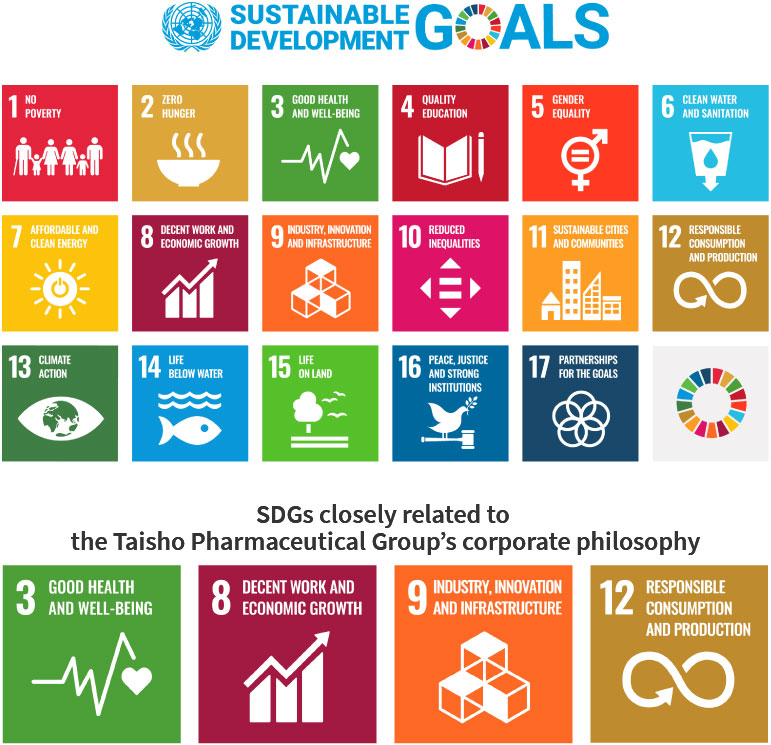 Stakeholder Engagement
The Taisho Pharmaceutical Group continues to pursue sustainable growth in its business activities and recognizes the importance of fulfilling the following responsibilities expected by the various stakeholders.
| | |
| --- | --- |
| For consumers | The Company will strive to help realize healthier and more enriched lives based on the theme of health in various fields. |
| For business customers and suppliers | The Company will establish and maintain fair and reasonable relationships. |
| For employees | The Company will respect the human rights and dignity of each individual and endeavor to secure employment. |
| For shareholders and other investors | The Company will disclose accurate information in a fair and timely manner. |
| For local communities | The Company will remain actively engaged in the community as a corporate citizen while striving to protect the environment and build mutually beneficial relationships. |
The Taisho Pharmaceutical Group strives to strengthen communication with stakeholders through a variety of means in order to identify their expectations and requirements of the Group in recognition of the importance of dialogue for getting stakeholders to understand the initiatives we are undertaking.