Community Initiatives
Interaction with Local Communities
We are striving for bi-directional communication through information disclosure regarding the environment and interactions with local communities.
In fiscal 2019, the Okayama Factory ran a booth at Shoo Industrial Park Open Factory 2019. Omiya Factory ran a booth at the Saitama City Environment Forum every year, but in 2019, the forum was cancelled due to a typhoon.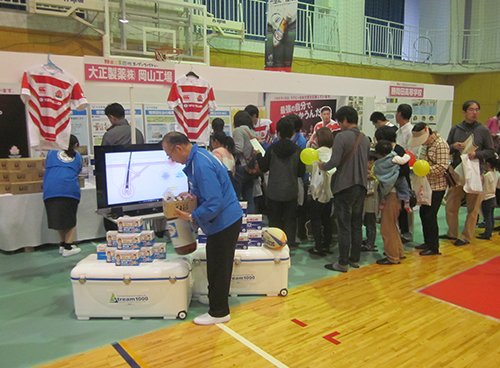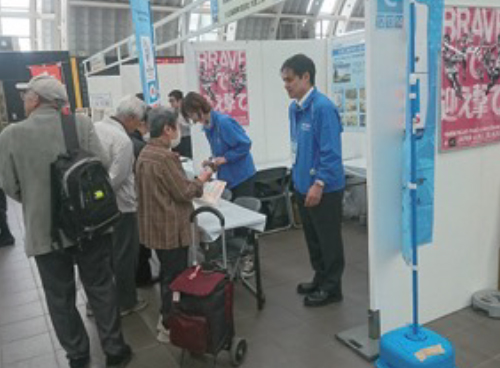 Collaboration with industrial and Regional Organizations
We are promoting environmental activities in cooperation with the environment-related committees of the pharmaceutical associations and the material recycling associations.
Major Environmental Activities
| Activities | Details |
| --- | --- |
| Participation in the Shoo Industrial Park Open Factory initiative | Nearby residents and students can better understand Taisho Pharmaceutical's business activities with introductions to our products, technology, environmental activities, etc. |
| Eco exhibition | Installed in the corridor at the Omiya Factory for visitors (manufacturing laboratory building 2) |
| Participation in industrial associations | Participated in the operation of environment-related committees hosted by the Japan Pharmaceutical Manufacturers Association and the Japan Self-Medication Industry to promote environmental activities together |
| Participation in recycling associations | Joined the Glass Bottle 3R Promotion Association to encourage recycling. |
Organizations We Are Associated with
Environment Committee of the Japan Pharmaceutical Manufactures Association (JPMA)
Environment Committee of the Japan Self-Medication Industry
Japan Containers and Packaging Recycling Association
Glass Bottle 3R Promotion Association
Saitama City Environment Conservation Liaison Council