November 1, 2017
Taisho Pharmaceutical Appointed Official Sponsor of
Rugby World Cup 2019™ Japan -After 16 Years Sponsoring Japan National Rugby Teams,
Taisho Pharmaceutical Sponsors Its First World Cup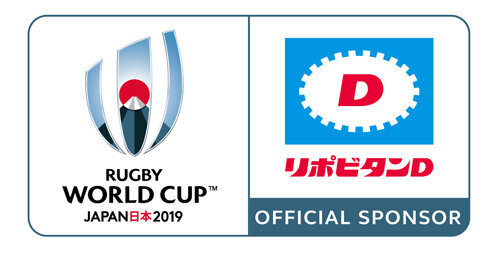 Taisho Pharmaceutical Co., Ltd. (Headquarters: Tokyo, Chief Executive Officer: Shigeru Uehara, gTaisho Pharmaceuticalh) announced today that it has decided to conclude an official sponsorship contract for Rugby World Cup 2019™ Japan hosted by World Rugby, and to sponsor the competition.
Taisho Pharmaceutical has supported the development of rugby in Japan. The Company has been an official sponsor of the Japan National Rugby Teams since 2001, and served as an official partner for the Japanese national team in 2016. Since 2002, Taisho Pharmaceutical has been a title sponsor for matches between Japan National Rugby Teams and invited overseas teams.
By participating in Rugby World Cup 2019™ Japan as Official Sponsor, Taisho Pharmaceutical will join with athletes and other rugby-related people and fans to make Rugby World Cup™ an exciting rugby event.
Through its flagship product Lipovitan D, the Company will continue to send a message of support to positive people striving to attain their dreams and support Rugby World Cup™.
Comment from World Rugby Chairman Bill Beaumont
World Rugby is delighted to be welcoming Lipovitan D to the Rugby World Cup commercial programme family for the first time as an official sponsor. Lipovitan D is a significant brand in Japan and a supporter of rugby in the host nation since 2001. The appointment of another market-leader to the Rugby World Cup 2019 commercial programme portfolio reaffirms the attraction and prestige of one of the world's biggest and best-loved major sports events.
Comment from Taisho Pharmaceutical Chief Executive Officer Shigeru Uehara
2019 is the year when Japan will host Rugby World Cup™, and it is also the 120th anniversary of Japan Rugby. We are honored to be able to participate as Official Sponsor of Rugby World Cup 2019™ Japan in this year of commemoration. The holding of this event is expected to further promote the appeal of rugby and help to popularize it.
About Rugby World Cup™
Rugby World Cup™ is the rugby world championship competition held once every four years. It is one of the top three world sports events in scale, after the Summer Olympic Games and the FIFA World Cup. The 2019 event in Japan is the ninth Rugby World Cup™ to be held, and the first to be held in Asia. National teams from the top 20 countries around the world will compete for Rugby World Cup™ championship trophy, the Webb Ellis Cup, over 48 matches held in 12 cities.
Overview of Rugby World Cup™
Name
Rugby World Cup 2019™ Japan
Time
September 20, 2019 (Friday) to November 2, 2019 (Saturday)
Cities hosting games
12 (Sapporo, Hokkaido Pref.; Kamaishi, Iwate Pref.; Kumagaya
Saitama Pref.; Chofu, Tokyo Pref.; Yokohama, Kanagawa Pref.; Shizuoka Pref.;
Toyota, Aichi Pref.; Higashiosaka, Osaka Pref; Kobe, Hyogo Pref.;
Fukuoka, Fukuoka Pref.; Kumamoto, Kumamoto Pref.; Oita, Oita Pref.
* Official website:http://www.rugbyworldcup.com/
Participating teams
20
Spectators
Approximately 2 million (estimate)
Competition format
48 matches total Elimination pool: 5 teams x 4 pools (total 40 matches)
Tournament: Quarter final, semi-final, third-place decider, final
The Rugby World Cup 2019 logo TM © Rugby World Cup Limited 2015. All rights reserved.