The Uehara Memorial Foundation
The Uehara Memorial Foundation
Supporting the Future of the Life Sciences through Grants, International Symposiums and Other Means
In February 1985, the Uehara Memorial Foundation was established as a 70th anniversary project of Taisho Pharmaceutical to commemorate the footsteps of our honorary chairman, the late Shokichi Uehara. The objective of the Uehara Memorial Foundation is to promote research in pharmaceutical development and other life science fields to enhance people's lives and welfare. The foundation has provided more than 10,460 grants and other forms of assistance totaling approximately ¥33.0 billion.
Support for Researchers
The foundation's activities have included research grants for professional life science researchers, grants for overseas study, the Uehara Prize, an award recognizing research accomplishments, and holding international symposiums.
Symposiums
The foundation promotes the life sciences by holding symposiums. In June 2021, we held the 13th International Symposium based on the theme of "Brain-periphery interactions in health and diseases."
The Uehara Prize and Grant Presentation Ceremony
In March 2021, the Uehara Prize presentation ceremony was held at the First Building of the Taisho Pharmaceutical headquarters. The winners were Dr. Ryoichiro Kageyama, Professor, Kyoto University Institute for Frontier Life and Medical Sciences, whose research theme is "Elucidation of the regulatory mechanism of proliferation and differentiation of neural stem cells," and Dr. Akihiko Yoshimura, Professor, Keio University School of Medicine, whose research theme is "Discovery of Molecular Mechanisms Regulating Cytokine Responses and Elucidation of Their Pathogenesis" The grant presentation ceremony was cancelled due to the COVID-19 pandemic.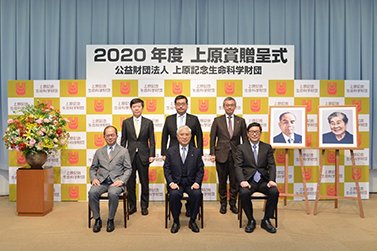 Grants and other forms of assistance awarded during fiscal 2020
| | |
| --- | --- |
| (1) Uehara Prize | ¥60.0 million |
| (2) Designated research grants | ¥69.0 million |
| (3) Research grants | ¥550.0 million |
| (4) Research incentive grants | ¥240.0 million |
| (5) Special incentive grants to promote research | ¥40.0 million |
| (6) Overseas research fellowships | ¥303.1 million |
| (7) Overseas postdoctoral fellowships | ¥219.8 million |
| (8) Other | ¥41.85 million |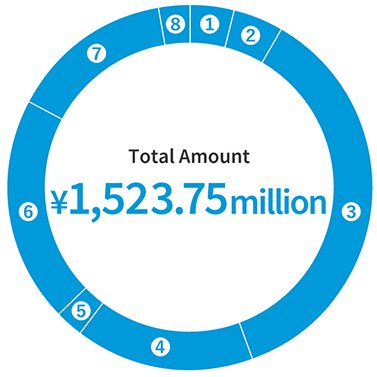 Support for Research
| | |
| --- | --- |
| Uehara Prize (research achievement prize) | Recognition of researchers in the field of life sciences actively engaged in original research that has produced notable accomplishments (gold medal and supplementary prize value: ¥20 million) |
| Designated research grants | Assistance for research in designated areas that need promoting (three-year grant, with research results announced at the Uehara Memorial Foundation international symposiums) (value: A ¥15 million, B ¥9 million) |
| Research grants | Assistance for researchers based in Japan (value: ¥5 million) |
| Research incentive grants | Assistance for young researchers based in Japan (value: ¥2 million) |
| Special incentive grants to promote research | Assistance for professors who established labs independently at medical and pharmaceutical schools (value: ¥4 million) |
| Overseas research fellowships | Assistance for young researchers who want to study overseas (during grant period; must be earning under ¥6 million annually) |
| Overseas postdoctoral fellowships | Assistance for young researchers who have a doctorate or will obtain one by April of the following year (during grant period; must be earning under ¥3 million annually) |
Uehara Prize (research achievement prize) recipients (titles omitted)
Fiscal year
Recipient
Affiliation (at time of award)
2020
Ryoichiro Kageyama
Professor, Kyoto University Institute for Frontier Life and Medical Sciences
Akihiko Yoshimura
Professor, Keio University School of Medicine
2019
Kazuhiro Iwai
Professor at Kyoto University Graduate School of Medicine
Mitinori Saitou
Professor at Kyoto University Institute for the Advanced Study of Human Biology
2018
Hiroyuki Sasaki
Distinguished Professor of the Medical Institute of Bioregulation, Kyushu University
Hiroshi Takayanagi
Professor of the Graduate School of Medicine, The University of Tokyo
2017
Kunihiro Matsumoto
Professor Emeritus of the Graduate School of Science, Nagoya University
Atsushi Miyawaki
Deputy Director of the RIKEN Brain Science Institute
2016
Hidenori Ichijo
Professor of the Graduate School of Pharmaceutical Sciences, The University of Tokyo
Seiji Ogawa
Professor of the Graduate School of Medicine, Kyoto University (Joint award)
Satoru Miyano
Professor of the Institute of Medical Science, The University of Tokyo (Joint award)
2015
Chikashi Toyoshima
Professor of the Institute of Molecular and Cellular Biosciences, The University of Tokyo
Noboru Mizushima
Professor of the Graduate School of Medicine, The University of Tokyo (Joint award)
Tamotsu Yoshimori
Distinguished Processor, Graduate School of Frontier Biosciences, Graduate School of Medicine, Osaka University
2014
Masanobu Kano
Professor of the Graduate School of Medicine, The University of Tokyo
2013
Yoshiki Sasai
Deputy Director of RIKEN Center for Developmental Biology
Osamu Nureki
Professor of the Graduate School of Science, The University of Tokyo
2012
Tadaomi Takenawa
Professor of the Graduate School of Medicine, Kobe University and Director of the Integrated Center for Mass Spectrometry
Yoshinori Watanabe
Professor of the Institute of Molecular and Cellular Biosciences, The University of Tokyo
2011
Kazutoshi Mori
Professor of the Graduate School of Science, Kyoto University
Masayuki Yamamoto
Dean, Professor of the Tohoku University School of Medicine
2010
Haruo Kasai
Professor of the Graduate School of Medicine, The University of Tokyo
Hiroyuki Mano
Professor, Jichi Medical University; Project Professor, The University of Tokyo
2009
Yuichi Sugiyama
Dean, Professor of the Graduate School of Pharmaceutical Sciences, The University of Tokyo
Eisuke Nishida
Professor of the Graduate School of Biostudies, Kyoto University
2008
Masamitsu Iino
Professor of the Graduate School of Medicine, The University of Tokyo
Shinya Yamanaka
Director of the Center for iPS Cell Research and Application at the Institute for Integrated Cell-Material Sciences
2007
Takashi Kadowaki
Professor of the Graduate School of Medicine, The University of Tokyo
Shimon Sakaguchi
Director of Institute for Frontier Medical Sciences, Kyoto University
2006
Shizuo Akira
Professor, Research Institute for Microbial Diseases
Kenji Kangawa
Deputy Director, National Cerebral and Cardiovascular Center
2005
Yo-ichi Nabeshima
Professor of the Graduate School of Medicine, Kyoto University
Yoshikuni Mizuno
Professor of the Graduate School of Medicine, Juntendo University
2004
Takao Shimizu
Professor of the Graduate School of Medicine, The University of Tokyo
Keiji Tanaka
Vice Director General, Tokyo Metropolitan Organization for Medical Research (part of the Tokyo Metropolitan Institute of Medical Science)
2003
Masaru Taniguchi
Professor of the Graduate School of Medicine, Chiba University
Tetsuo Nagano
Professor of the Graduate School of Pharmaceutical Sciences, The University of Tokyo
2002
Shoichiro Tsukita
Professor of the Graduate School of Medicine, Kyoto University
2001
Shuh Narumiya
Professor of the Graduate School of Medicine, Kyoto University
Mitsuhiro Yanagida
Dean, Professor of the Graduate School of Biostudies, Kyoto University
2000
Makoto Asashima
Professor of the Graduate School of Arts and Sciences, The University of Tokyo
Koichi Tanaka
Professor of the Graduate School of Medicine, Kyoto University
1999
Yasushi Miyashita
Professor of the Faculty of Medicine, The University of Tokyo
1997
Shigekazu Nagata
Professor of the Faculty of Medicine, Osaka University
Katsuhiko Mikoshiba
Professor of the Institute of Medical Science, The University of Tokyo
1996
Yoshio Yazaki
Dean, Professor of the Faculty of Medicine, The University of Tokyo
1995
Masatoshi Takeichi
Professor of the Graduate School of Science, Kyoto University
1994
Nobutaka Hirokawa
Professor of the Faculty of Medicine, The University of Tokyo
1993
Tadatsugu Taniguchi
Professor of the Institute for Molecular and Cellular Biology, Osaka University
Tasuku Honjo
Professor of the Faculty of Medicine and Director of the Center for Molecular Biology and Genetics
1992
Akira Ichihara
Director and Professor of Institute of Enzyme Research, Tokushima University
Keiya Tada
Professor of the School of Medicine, Tohoku University
Toshiharu Nagatsu
Professor, Institute for Comprehensive Medical Science, Fujita Health University
1991
Fumimaro Takaku
President of International Medical Center of Japan
Shigetada Nakanishi
Professor of the Faculty of Medicine, Kyoto University
1990
Seiichiro Tarui
Professor of the Faculty of Medicine, Osaka University
1989
Masaji Ohno
Professor of the Faculty of Pharmaceutical Sciences, The University of Tokyo
1988
Satoshi Ōmura
Director and Deputy Director, The Kitasato Institute
1987
Michio Ui
Professor of the Faculty of Pharmaceutical Sciences, The University of Tokyo
1986
Hiroshi Irisawa
Professor of the Institute for Physiological Sciences, Okazaki National Research Institute
1985
Hideo Sugita
Director of Department of Neuromuscular Research, Neurological Research Center of National Musashi Sanatorium
Yukio Yamori
Professor, Shimane Medical University