October 8, 2021
Taisho Pharmaceutical appointed as Premium Global Partner of New Zealand Rugby
Promoting development of rugby through support for the All Blacks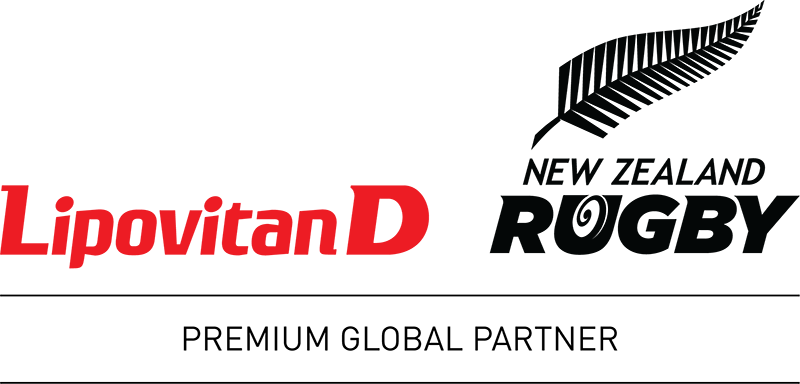 Taisho Pharmaceutical Co., Ltd. (Headquarters: Tokyo, Chief Executive Officer: Shigeru Uehara, (hereinafter Taisho Pharmaceutical) has entered into a partnership with New Zealand Rugby (NZR), which includes New Zealand's national rugby team the All Blacks, to become a Premium Global Sponsor of NZR starting January 1, 2022.
As a Premium Global Partner of NZR, Taisho Pharmaceutical will create opportunities within Japan to connect with New Zealand's world-leading rugby culture. In conjunction with its activities as a Top Partner of the Japan national rugby team, Taisho Pharmaceutical will engage in efforts to help grow the domestic base of both competitors and fans, and thereby promote the development of Rugby in Japan.
In addition to the company's role as Premium Global Partner of NZR, also from January 1, 2022, Taisho Pharmaceutical will be serving as Official Title Partners of New Zealand-based matches in the Rugby Championship, a four-nation international competition contested by the national teams of South Africa, New Zealand, Australia, and Argentina. These matches will be held under the title "Lipovitan-D Rugby Championship".
Taisho Pharmaceutical has also sealed a partnership with NZR to serve as an Official Tournament Partner for the women's "Rugby World Cup 2021 New Zealand (playing in 2022)," which is hosted by World Rugby and the Organising Committee. Taisho Pharmaceutical is also an Official Supplier for "Rugby World Cup 2023 France", and the company aims to join forces with all players, staff, and fans to ensure the continuing vitality of the Rugby World Cup.
Close engagement with sport is a key part of Taisho Pharmaceutical's corporate mission, and the company's various sporting collaborations, including its role as Top Partner to the Japan national rugby team, are born of a commitment to sport as culture, and to sport's role in the promotion of both physical and mental wellbeing. Through support for sporting culture, Taisho Pharmaceutical aims to boost the population of both participants and fans, and thereby increase the standard of sporting competition, which we see as vital steps towards realizing our corporate mission.
The present partnership extends to the following New Zealand Rugby-administered teams:
All Blacks (Men's 15-a-side national team)
Black Ferns (Women's 15-a-side national team)
All Blacks Sevens (Men's 7-a-side national team)
Black Ferns Sevens (Women's 7-a-side national team)
Maori All Blacks (Maori Men's 15-a-side select team)
All Blacks XV (Men's 15-a-side national second team)
New Zealand U-20 (Men's 15-a-side U-20 national team)
Comment from Taisho Pharmaceutical Chief Executive Officer Shigeru Uehara
"It is a tremendous honor to become a Premium Global Partner of an organization with the heritage of New Zealand Rugby, a role that presents the opportunity to engage with a world-leading rugby culture and participate in various global-level rugby events. With their high profile in Japan, we see the All Blacks as a team of great interest to rugby players and fans alike, and we believe this partnership will help to significantly boost the popularity of rugby in Japan, making more people aware of the appeal of rugby by bringing top-level performance one step closer to the Japanese public."
Comment from Mark Robinson, CEO, New Zealand Rugby
"Bringing to life our global ambitions for rugby and to connect our teams to all corners of the world is critical and we are proud to partner with Taisho as a key part of that. Taisho's genuine passion for rugby is demonstrated through their support of the national rugby team and Japan's love for the game both on and off the field was really reinforced after Rugby World Cup 2019. We look forward to engaging and growing those communities alongside Taisho over the course of the partnership."
About New Zealand Rugby
Founded in 1892, New Zealand Rugby has teams based in Wellington and Auckland as well as a number of people working out in the rugby community and with high performance teams. New Zealand Rugby has direct relationships with its members, including all 26 Provincial Unions, Investec Super Rugby teams, sponsors, and stakeholders such as the New Zealand Government, striving to be a world-leading sports organisation and helping all of rugby to be the best it can be. Each and every day NZR leads, supports, grows and promotes New Zealand's game. Furthermore, NZR strives to ensure that rugby teams that wear the black jersey are unrivalled, through a high-performance system that produces the world's best talent, competitions that fans love, and a community game that is strong and cherished.